Shi Zhen Shui Gao / Soothing Cream
湿疹⽔膏
ECZ-2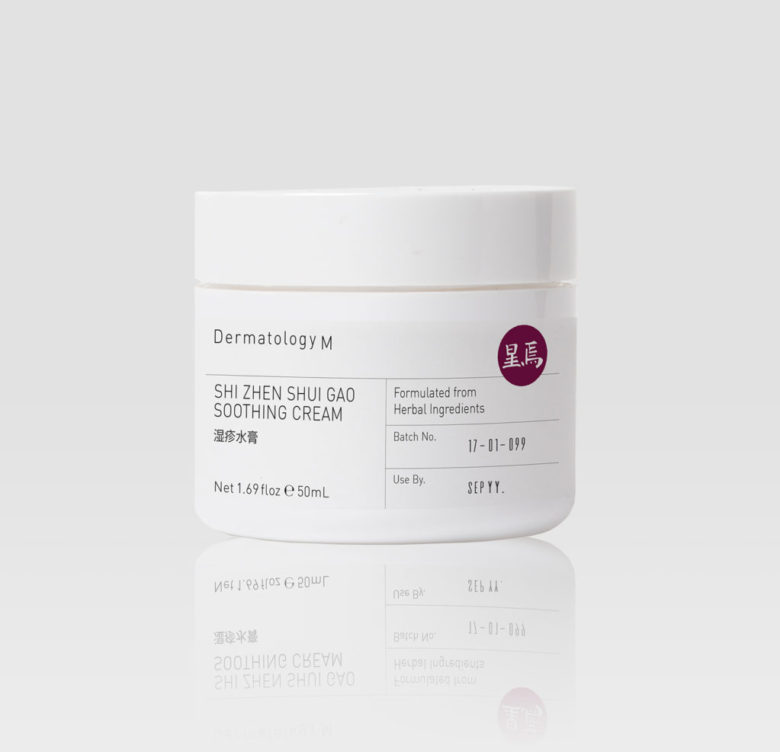 Benefits
Formulated from herbal ingredients known to clear heat and moisten dryness.
Method of Application
Apply 3-5 times a day.
Extended Functions
Use for Hot Blood Eczema manifesting as dry, poorly circumscribed, red, itchy Eczema with scaling or inflamed Eczema. If the condition does not improve, use Huang Lian Gao instead (although these two topicals have similar indications, patients vary in their response and may find better results with one or other).
Combinations
When absorbed, apply Zi Cao Shui Gao to moisten skin.

Ingredients
Aqua (Water), Carthamus Tinctorius (Safflower) Seed Oil, Sodium Stearoyl Lactylate, Borago Officinalis (Borage) Seed Oil, Glycerine, Cetearyl Alcohol, Glyceryl Stearate, Butyrospermum Parkii (Shea) Nut Butter, Prunus Persica (Peach) Kernel Oil, Calcium Sulfate, Phellodendron Amurense (Amur Cork) Bark Extract, Polygonatum Tinctorium (Chinese Indigo) Leaf/Stem Extract, Zinc Oxide, Panthenol, Squalane, Allantoin, Phenoxyethanol, Hydrolyzed Theobroma Cacao Seed Butter, Tocopherol, Hydrated Silica, Retinyl Palmitate, Helianthus Annuus (Sunflower) Seed Oil, Caprylic/Capric Triglyceride, Lactic Acid, Xanthan Gum, Urea, Aloe Barbadensis (Aloe Vera) Leaf Juice Powder, Caprylyl Glycol, Pantolactone.
Warnings
May contain traces of nuts or seeds.
Ensure to do a patch test before using any new product. In case of any adverse reaction, discontinue use of product immediately
For external use only. Keep out of reach of children.
Customer Care
Suitable for Vegans.
As with all natural products, it is inherent that appearance and consistency may vary. This does not affect the quality of the product.
Product statements have not been evaluated by the Food and Drug Administration. These products and statements are not intended to diagnose, treat, cure or prevent disease.
For further information see leaflet or email care@dermatology-m.com.