Huang Lian Gao / Soothing Ointment #2
⿈連膏
ECZ-6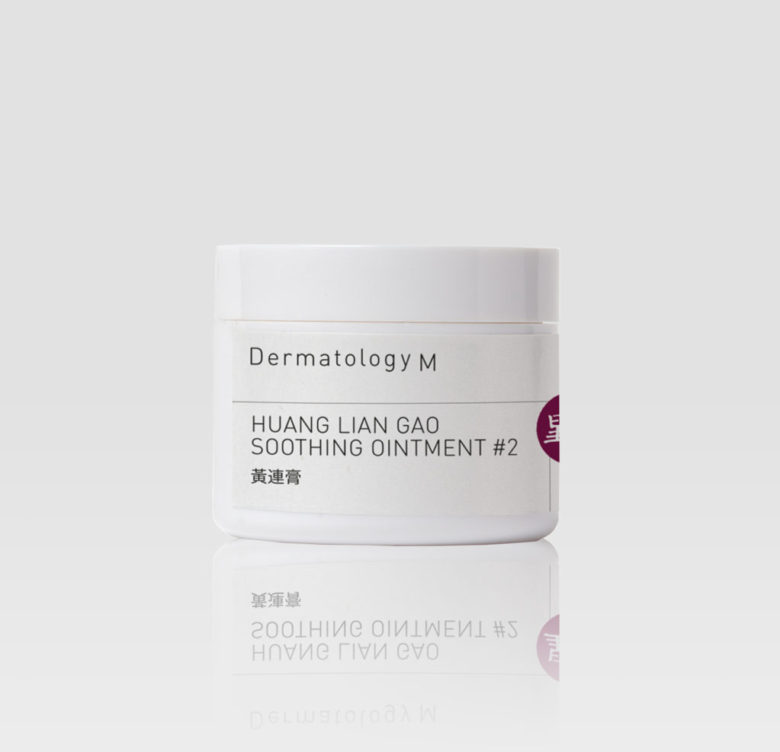 Benefits
Formulated from herbal ingredients  known to clear heat and moisten dryness.
Method of Application
Apply 3-5 times a day.
Extended Functions
Use for Hot Blood Eczema manifesting as dry, hot, diffuse Eczema with profuse scaling and severe itching or inflamed Eczema. If the condition does not improve, use Shi Zhen Shui Gao instead (although these two topicals have similar indications, patients vary in their response and may find better results with one or the other).
Combinations
When absorbed, apply Zi Cao Shui Gao to moisten skin.

Ingredients
Sesamum Indicum (Sesame) Seed Oil, Cera Alba (Beeswax), Coptis Chinensis (Chinese Goldenthread) Rhizome Extract, Hydnocarpus Anthelminthicus Seed Extract, Polygonum Tinctorium (Chinese Indigo) Leaf/Stem Extract, Agonis Fragrans (Fragonia) Leaf Oil, Dictamnus Albus (Burning Bush) Root Extract, Rhus Javanica (Nutgall) Fruit Extract, Sophora Flavescens Root Extract, Schizonepeta Tenuifolia Extract, Forsythia Suspensa Fruit Extract, Clematis Chinensis Root Extract, Rheum Palmatum (Rhubarb) Root/Stalk Extract, Atractylodes Chinensis Rhizome Extract, Mentha Canadensis (Wild Mint) Branch/Leaf Extract, Ledebouriella Seseloides Root Extract, Angelica Dahurica (Angelica) Root Extract, Tribulus Terrestris Fruit Extract, Cnidium Monnieri (Monnier's Snowparsley) Fruit Extract, Linalool, Limonene.
Warnings
Allergy warning: this product contains sesame seed oil. Do not use if you suffer from nut or similar allergies.
Ensure to do a patch test before using any new product. In case of any adverse reaction, discontinue use of product immediately.
For external use only. Keep out of reach of children.
Customer Care
As with all natural products, it is inherent that appearance and consistency may vary. This does not affect the quality of the product.
Product statements have not been evaluated by the Food and Drug Administration. These products and statements are not intended to diagnose, treat, cure or prevent disease.
If you require a custom made product without nut or seed derived ingredients, please contact our customer service department.
For further information see leaflet or email care@dermatology-m.com.