Bai Bi Shui Gao / Softening Cream
⽩疕⽔膏
PSO-2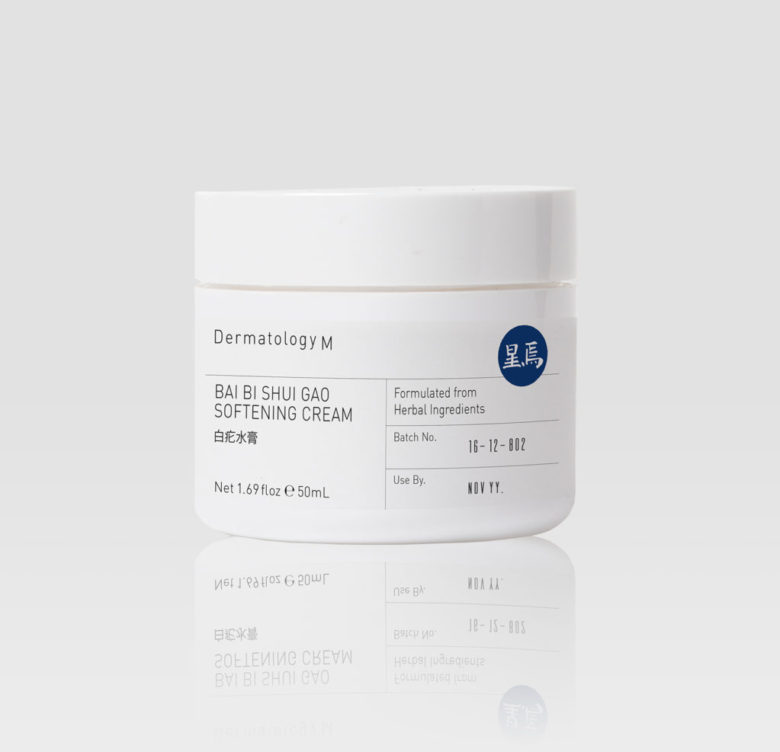 Benefits
Formulated from natural ingredients to soften and relieve red and scaly skin.
Method of Application
Apply 2-3 times a day.
Ingredients
Aqua (Water), Sesamum Indicum (Sesame) Seed Oil, Glyceryl Stearate, Oenothera Biennis (Evening Primrose) Seed Extract, Sodium Stearoyl Lactylate, Phellodendron Amurense (Amur Cork) Bark, Polygonum Tinctorium (Chinese Indigo) Leaf/Stem Extract, Scutellaria Baicalensis (Skull Caps) Root Extract, Angelica Polymorpha Sinensis (Dong Quai) Root Extract, Arnebia Euchroma (Redroot) Root Extract, Tocopherol, Butyrospermum Parkii (Shea) Nut Butter, Glycerin, Urea, Cetearyl Alcohol, Hippophae Rhamnoides (Sea Buckthorn) Fruit Extract, Phenoxyethanol, Zinc Oxide, Rheum Palmatum (Rhubarb) Root/Stalk Extract, Angelica Dahurica (Angelica) Root Extract, Coptis Chinensis (Chinese Goldenthread) Rhizome Extract, Curcuma Longa (Turmeric) Root Extract, Ledebouriella Seseloides Root Extract, Paeonia Lactiflora (Chinese Peoney) Bark/Sap Extract, Rehmannia Elata (Chinese Foxglove) Root Extract, Salvia Miltiorrhiza Root Extract, Retinyl Palmitate, Hydrated Silica, Caprylic/Capric Triglyceride, Ethylhexylglycerin, Aloe Barbadenis (Aloe Vera) Leaf Juice Powder, Helianthus Annuus (Sunflower) Seed Oil, Rosmarinus Officinalis (Rosemary) Leaf Extract.
Warnings
Allergy warning: this product contains sesame seed oil. Do not use if you suffer from nut or similar allergies.
Ensure to do a patch test before using any new product. In case of any adverse reaction, discontinue use of product immediately.
We advise using this product whilst under the supervision of a qualified Chinese herbalist.
Customer Care
Suitable for Vegans.
This product is Halal.
As with all natural products, it is inherent that appearance and consistency may vary. This does not affect the quality of the product.
Product statements have not been evaluated by the Food and Drug Administration. These products and statements are not intended to diagnose, treat, cure or prevent disease.
If you require a custom made product without nut or seed derived ingredients, please contact our customer service department.
For further information see leaflet or email care@dermatology-m.com.