Bai Bi Ding / Softening Tincture
⽩疕酊
PSO-3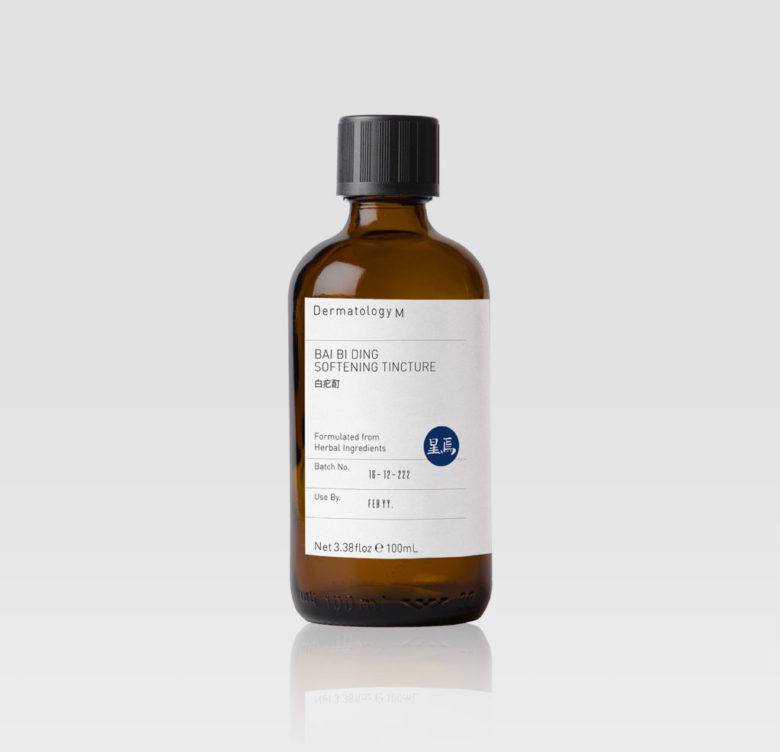 Benefits
Formulated from natural ingredients to relieve red and scaly skin.
Method of Application
Apply 2-5 times a day.
Ingredients
Alcohol, Water (Aqua), Sophora Flavescens Root Extract, Cnidium Monnieri (Monnier's Snowparsley) Fruit Extract, Polygonum Cuspidatum (Japanese Knotweed) Plant Extract, Hydnocarpus Anthelminthicus Seed Extract, Larix Leptolepis (Japanes Larch) Bark Extract, Zanthoxylum Schinifolium (Sichuan Pepper) Leaf Extract, Typha Angustifolia (Lesser Bullrush) Spike Extract, Salvia Miltiorrhiza Root Extract, Crocus Sativus (Saffron) Stigma Extract, Impatiens Balsamina (Rosew Balsam) Flower Extract, Lonicera Japonica (Japanese Honeysuckle) Callus Extract.
Warnings
May contain traces of nuts or seeds.
We advise using this product whilst under the supervision of a qualified Chinese herbalist.
Ensure to do a patch test before using any new product. In case of any adverse reaction, discontinue use of product immediately.
This products natural colourings may stain.
For external use only. Keep out of reach of children.
Customer Care
Suitable for Vegans.
As with all natural products, it is inherent that appearance and consistency may vary. This does not affect the quality of the product.
Product statements have not been evaluated by the Food and Drug Administration. These products and statements are not intended to diagnose, treat, cure or prevent disease.
For further information see leaflet or email care@dermatology-m.com.